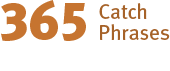 365 сatch phrases
for iPhone, iPad & Bada
Catch phrases, maxims and quotes present our thoughts and ideas that great people managed to express earlier than we did. Now let everyone decides for himself whether they convey centuries-old wisdom, fine irony or practical advice.

▪ Compatible with Retina display
▪ Can send phrases to Twitter
▪ Can send phrases and pictures to Facebook
▪ Amuses you every day with a new phrase.